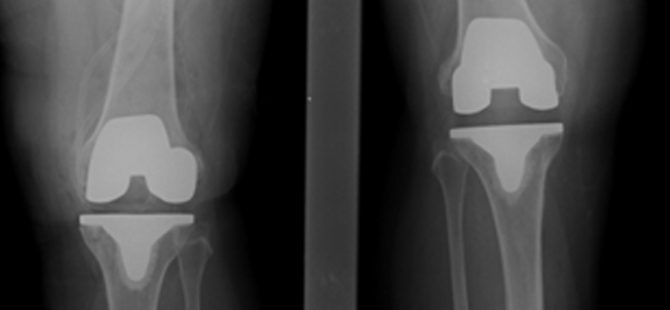 Mrs. Nisha, 49yrs old came to MIOT on 15th Feb, 2014 with severe pain in her joints and difficulty in walking. Her husband was running a small departmental store and she was helping him with it. Her problem started since 1999 when she started experiencing mild pain in her knee region. As the intensity of pain was less, she ignored it.
As months passed, the pain started becoming persistent. She noticed swelling over her knee region as well. A little worried, she went to a nearby clinic where the Doctor advised her for X-rays. She was diagnosed with Bone TB for which she was prescribed medications. In 2-3 months she started experiencing pain in all her joint regions like shoulder, hip, wrist etc.
After 8months long struggle, she decided to take opinion from another Doctor. So, she and her husband went to a multi-speciality hospital in Delhi. After investigations, she was diagnosed with Rheumatoid Arthritis. She was put on medication. For the next 3yrs she did not have much pain. But later on she started developing severe episodes of joint pain. She was unable to lift heavy items and if lifted, her hands would get swollen.
Unable to bear her pain, they went to an Ortho Speciality hospital in Hyderabad. They gave the same diagnosis and prescribed her injections. The same scenario relapsed. She was pain free for the next 2-3yrs and later developed pain. But still she was continuing the medications.
The pain kept increasing in all her joints. She even started feeling difficulty in walking. So the Doctors advised her to undergo Total Knee Replacement Surgery. Fearing about the quality of treatment, they did not want to undergo the surgery there. One of the Doctors in their Native referred them to MIOT.
Finally in Feb 2014 they came to MIOT and consulted with the Knee Replacement surgeon. After the investigations, the Doctor advised them surgery. As her Right Knee condition was worse than her left, they decided to operate her right initially followed by her left after 6months. She was taken up for Total Knee Replacement surgery of Right knee on 19th Feb 2014.
From the next day she was advised active Physiotherapy and in 7 days time, she was discharged. In 2 weeks time, she had no pain in her right knee and was able to put weight on that leg and walk. In August 2014, with full confidence that she will walk freely post surgery, she was taken up for Total Knee Replacement surgery of left knee.
2weeks post surgery Mrs. Nisha was able to walk on her own. Today Mrs. Nisha, can walk without any difficulty and can do all her daily activities. She is on regular follow-up with the Rheumatologist for her Arthritis.
Leave a reply