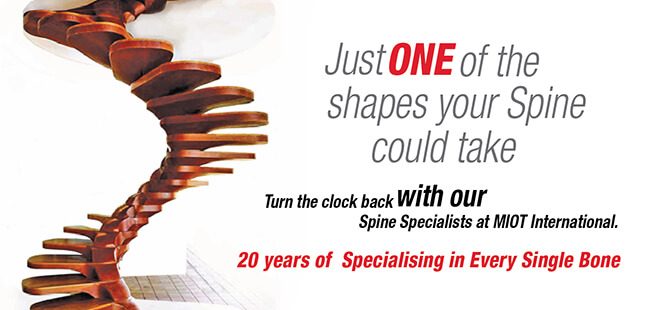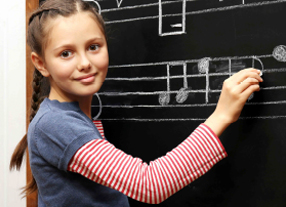 Tara 13yrs, pretty & graceful at  in everyway. Except for her back which was bent at 80 degrees, due to Scoliosis or curvature of the Spine which had set in when she was 6 years old.

Anand 34yrs, an IT professional on the fastrack. Life had come to a standstill with extreme back pain caused by TB infection of the spine.

Mathew 50 yrs, father of 2 boys. Victim of a highway car accident, he had been left with fractured spinal bones and the terrifying possiblity of not walking  again.
Maheshwari 62yrs, housewife & grandmother. Back pain brought on by spinal disc degeneration had put a stop to all her favourite activities.
Today, all of our patients mentioned above share the joy of independant, active lives after Specialist treatment at the Spine Surgery Dept, MIOT International. Lets hear from the Director, Spine Surgery on how consistently successful outcomes at MIOT are encouraging patients and caregivers to seek treatments faster.
"The vast improvements we have today in medical technologies, treatment techniques, tools and surgical skills have made Spinal treatments as safe as any other specialty. 'Paralysis' which is the unspoken fear of most patients should no longer be a barrier, provided you approach a high volume Centre with experienced Spine specialists and advanced facilities."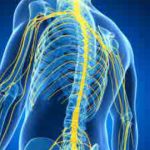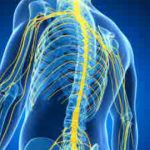 Dr, why is injury to the Spine so worrying?
We have 33 interlocked vertebral bones sitting on top of one another to form the Spinal column that shapes & supports our body. Within this strong column lies our spinal cord & nerves which carry messages to & from the brain, causing our movements, sensations & reactions. Patients are generally confused about this structural arrangement and assume any damage or intervention to the  Spine will lead to paralysis or loss of sensation, which is not correct.
So what can cause damage to the Spinal column?
Accident, deformity or disease can damage any part of the Spinal column. The damaged bone, debris or pus formed puts pressure on the delicate nerves below, causing pain or loss of sensation. During Spine surgery, our highly skilled surgeons lift the debris or damaged bone off the nerves using advanced microscopes & miniaturised instruments. This eliminates pain & risk to the nerves.  The damaged bones are reset or stabilised with implants & the patient recovers with physiotherapy and time.
What about tumours, infections or other diseases of the Spine?
Here, the spinal bone could get eroded, leaving the cord & nerves unprotected. Skilled Interventional radiologists at MIOT inject medication at the cause site while Spine surgeons bridge the gap in eroded bones to restore both function and protection.
What is critical for a good outcome?
Accurate & fast diagnosis is the key to a good outcome as most patients come in at advanced stages, after trying other treatments or centres. Experienced Specialists at MIOT can immediately differentiate or eliminate possibilities, which are validated on some of the best diagnostic systems in India. We then go ahead with definite treatments using state-of-the-art facilities, without losing precious time – giving us consistently good outcomes.
Why do outcomes differ so widely across centres, even today?
Spine conditions are generally complex. Therefore outcomes are much better when treatments are done by specialists, experienced in that condition. At MIOT, we have Spine specialists for  accidents & trauma, Spine surgeons for deformities like scoliosis, disc degeneration etc while Interventional radiologists & Neurosurgeons play a key role alongwith Spine surgeons for tumours  etc. This integrated specialisation makes all the difference as patients receive a high level of customised treatment.
As Tara, who was later crowned beauty queen in Seychelles said, "MIOT literally reshaped my life. If you suspect a problem, just get there in time… that's all my parents & I had to do.  They took care of the rest"
Leave a reply