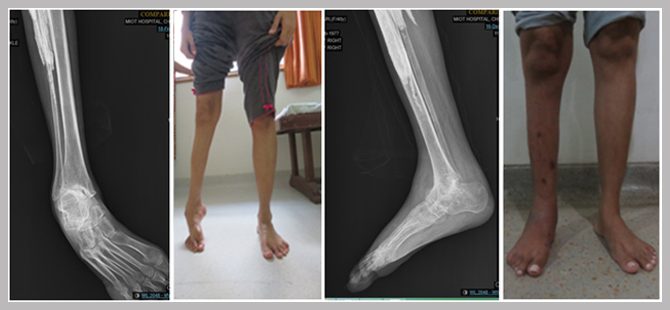 Mrs. Madhu, 40yrs old lady came to MIOT on 11th Feb, 2017 with complains on difficulty in walking since childhood due to the severe deformity in her foot and ankle. When she was 8 years old she developed a benign tumor in the right abdomen region below the liver for which she underwent surgery. 6months following surgery, she developed enormous swelling of right lower limb. She had developed a blood clot in the vessels to the right lower limb and was treated with anticoagulants for 1 year period.
The limb swelling decreased gradually. Then the patient complained of cramping pain on walking for long distances. In the next 2-3yrs, she noticed thinning of right thigh and leg and deformity of the right ankle and foot with inability to move her right foot upwards. The deformity was becoming very severe, that it was preventing her to walk by herself.
Deformity correction elsewhere:
At the age of 30, she visited a Doctor to get her deformity corrected elsewhere. The surgery was done and she was back to her foot 6months post the surgery. But her happiness dint last long. In a few years post the deformity correction, she started noticing changes with that foot again. The deformity was relapsing and the doctors who had treated her could not reason her out.
 Approach to MIOT:
As the deformity was becoming severe, she was determined to find a solution to it. It is only at that time, she heard from her relative about MIOT. At MIOT, the trauma care specialist examined her. She was advised for X-rays which showed severe arthritis (joint inflammation) in the right ankle, sub-chondral sclerosis with severe equinocavovarus deformity of the right foot.
SUBCHONDRAL SCLEROSIS is a condition that affects the bones in the joints of people with osteoarthritis. It causes joint pain and immobility due increased bone mass and density and cartilage loss increases.  EQUINOCAVOVARUS. DEFORMITY of the foot in which the heel is turned inward toward the midline of the body and the foot is pointing downwards.
 Relapse to recovery:
Due to her medical history, she was sent to the vascular surgeon for his opinion. The investigations showed the circulation in the foot and ankle was good. The Trauma specialist suggested for Deformity correction surgery know as "Ílizarov's Ring external fixator" with an assurance that, he deformity will not relapse again.
The ILIZAROV APPARATUS is a type of external fixation used in orthopaedic surgery to lengthen or reshape limb bones; as a limb-sparing technique to treat complex and/or open bone fractures; and in cases of infected non-unions of bones that are not amenable with other techniques.
She was taken up for surgery on 3rd March, 2017. The external fixator had to be in place for 3 months for the bones to heal.  Her post-operative period was uneventful. 1week post surgery, she was mobilized with physiotherapy. After 3 months, her review showed that the foot was in the normal, corrected position and that the external fixator can be removed. 6 months post treatment; she was completely back on her own foot.
Leave a reply