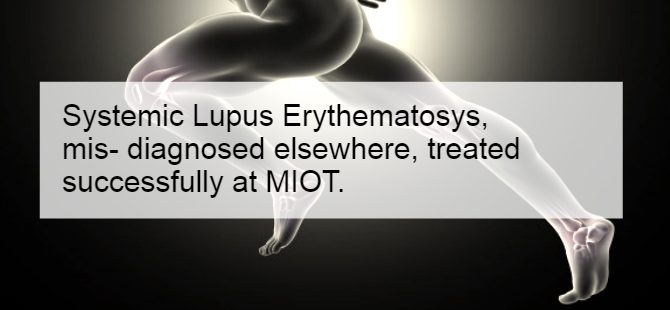 Mr. Rayan, an 18yr old boy from Andaman arrived to MIOT on 11
th
Jan, 2018 in a bed bound state with the compliant of persistent fever, weight loss and liver toxicity. He was the only son in the family and a 1
st
yr Fashion technology student.
Mis- Diagnosis:
2 months post joining college, around August, 2017 he started developing frequent joint pains. Initially he ignored it, but in a week's time he had fever which was not subsiding on medications. When his condition started intensifying, he went to a multi speciality hospital when all blood investigations were done. He was diagnosed to have Pancytopenia (deficiency of all three cellular components of the blood -red cells, white cells, and platelets). He was advised to take Anti- Tuberculosis drugs for 2 months.
Even those medicines dint seem to work for him. His joint pain had become severe to a point that, he was almost bed ridden. He was not able to do anything without the support of his parents. When he went for review to the hospital, the doctors told that his condition will resolve only gradually and hence should continue the medicines. In a few days, Mr. Rayan started experiencing abnormal weight loss as well as pain in the right abdominal region.
Arrival to MIOT:
Fearing that something is very wrong with his treatment, he went to G B PANT Hospital, where he was diagnosed with liver toxicity. They immediately referred him to MIOT.  On arrival to MIOT, he was completely examined by the Haematologist and Rheumatologist. He was diagnosed to have Systemic Lupus Erythematosys (SLE).  But as his liver was in a bad shape, he was 1st stabilized for that. In a week's time when his liver function tests were near normal, treatment for SLE was started.
Back to Normalcy:
He was started with Immuno-suppressive therapy. Within 48hrs, his fever subsided completely. In 10days time, his joint pain had reduced and he was able to walk with support. In a month's time, he was able to walk by himself and do all his daily activity. Mr. Rayan, is not back to college, working on his dreams of becoming a Fashion Design
Leave a reply