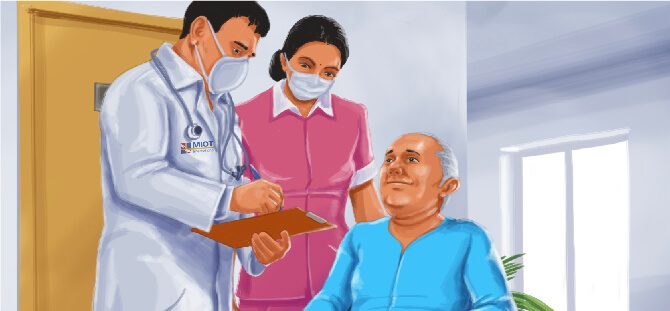 It was the early days of COVID-19 and a lockdown was just imposed. In the still of the night, at the stroke of the midnight hour, that the senior journalist Mr. Srinivasan suddenly found himself awake. He was woken up by a sudden, sharp chest pain. As the stabbing pain became unbearable, Mr. Srinivasan got off the bed and phoned his sister who lived nearby. She panicked and arrived within minutes, finding Mr. Srinivasan sweating uncontrollably. She helped him into the car and sped off, frantically looking for a hospital. It was then Mr. Srinivasan told her to take him to MIOT Hospitals.
MIOT was 10 kms away from Adyar. So his sister told him that they'd lose precious time by the time they get there. Mr. Srinivasan placed immense trust in MIOT Hospitals, having visited there before and told her to take him at his word. Mr. Srinivasan was slowly losing consciousness. His sister was unsure if they'd make it on time. She managed to maintain her composure and reached MIOT Hospitals at 1 in the morning.
After temperature checks were taken, Mr. Srinivasan was wheeled into the Cardiac ICU. He was resuscitated and examined by a senior cardiologist. An ECG revealed that Mr. Srinivasan had suffered a severe heart attack. He was immediately taken to MIOT's state-of-the-art CathLab under COVID safe protocol. MIOT's senior interventional cardiologist then performed an angioplasty. A stent was placed in the vessel to restore blood supply. The overall procedure lasted 45 minutes and Mr. Srinivasan was pulled back from the jaws of death. After 3 days of observation in the cardiac ICU he was discharged. Had Mr. Srinivasan not come to the right place at the right time, it could have been fatal.
Leave a reply