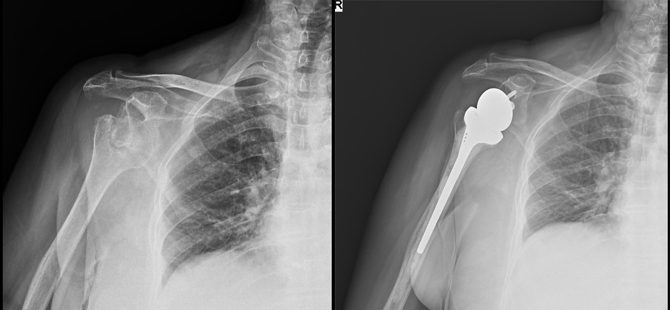 Mrs. Mahalakshmi, a 56yr old lady came to MIOT on 13th Nov, 2017 with pain and difficulty in moving her right shoulder. A very responsible housewife, who always cares and fulfils all the needs for the 2 daughter and 3 grand children.
In September 2017, when she was doing her daily activity, she tripped and fell forward. Trying to avoid her head from hitting directly on the ground, she put all her weight on her right shoulder to slow down her fall.  Fortunately, her head did not hit but her right shoulder took the bait. Since then, she had experienced severe pain in her right shoulder region.
Thinking that the severe pain is only because of the effect of the fall, she tried managing it with home remedies. She applied pain relief gels, took tablets but did not have any big relief. She took oil massages, the pain relieved for few days post that but later aggravated. In a month's time,  she started feeling a pricking sensation in that region, the shoulder region started feeling numb and she was not able to lift her hand.
It was only then she started fearing. Mrs. Mahalakshi said "It looked that the hand had completely died. I thought I am going to become crippled for the rest of my life. The hardest part was, I was unable to lift my granddaughter."  She understood something has to be done and her 1st option in mind was to come to MIOT as she had already undergone Total Knee replacement here.
Once at MIOT, she was examined by the Shoulder and Upper Limb specialist. He advised for X-rays. She was diagnosed to fracture of the right shoulder. The doctor suggested for Reverse Shoulder Arthroplasty surgery of Right shoulder.
Mrs. Mahalakshmi was taken for surgery on 1st December 2017. Her post-operative period was uneventful. 3 days post surgery; she was advised to start physiotherapy. She had no pain in her shoulder region post surgery. 1 month later, she was able to lift her hands to a considerable extent. In 3 months time, she was able to move her right hand in all directions, even above her head. Now she can do all her activities and happily lift her granddaughter.
Leave a reply