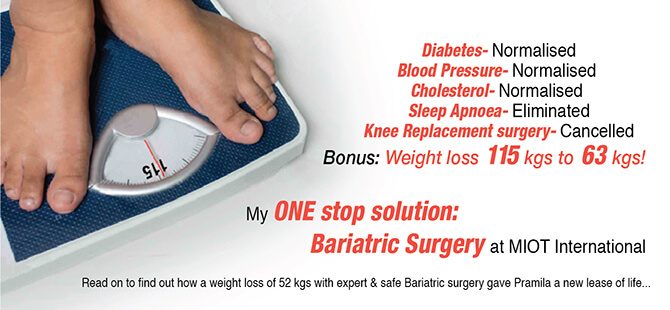 "At 40 yrs, I felt like a 70 year old! I was diabetic, had high BP & cholesterol. Sleep apnoea which I had developed kept me drowsy throughout the day. To top it all I was just 5' tall but weighed 115 kgs! I couldn't believe it was all happening to me and yet I waited thinking the nightmare would end! It was only when I could hardly walk due to the excruciating pain in my knees that I decided to consult at MIOT International, Chennai. Thank god I did"! says a clearly relieved Pramila.
"The minute we saw her walking into the room I knew it was her obesity that was causing her knee pain. She definitely needed a Knee replacement but given her weight status, an immediate replacement had a high chance of breakage and recurrence. We had to give her a long term solution for which she had to be part of a broader treatment Plan",explained the MIOT Knee replacement  Specialist.
Obesity, the common enemy
"We were completely surprised when the doctors explained that Pramila's overweight was the main cause for all her medical problems. It was placing additional load on the functioning of her heart and other organ systems.
Any further weight increase could lead to their breakdown. The only permanent and complete solution was a Bariatric surgery which could reduce her weight by about 80% in a short period of time", recalls Pramila's husband.
Bariatric Surgery. A one stop solution
"My doctor assured me that the procedure would reverse all my problems and I could even avoid the Knee Replacement surgery. The only condition was that I would have to play an equal role in  my treatment. His transparency & confidence convinced me that this was the chance I had been waiting for. We proceeded quickly once the decision was made.
My post surgery phase was painfree. I walked with help & did breathing exercises the very next day. I went home in 4 days with strict instructions that I followed. I was prepared for every stage of the recovery phase thanks to the thorough visualisation process that my doctors had taken me through.
Dramatic results
In 6 weeks, I had lost 15 kgs & 30 kgs in 4 months! My sugar levels, BP & Cholesterol were down to normal & I was off medication, after years! My knee recovered sufficiently and there was no surgery required- just as my doctors had predicted!", said an excited Pramila.
Today,Pramila 45yrs, walks 5 kms every day. She is a supportive wife and an active mother to 2 brats.                                             As she says:
Today I am a new person . I look forward to life. Thanks to MIOT!
Advantage MIOT
Laparoscopic Gastric Banding, Sleeve Gastrectomy & Gastric Bypass procedures offered
Customised evaluation & treatment by an experienced Multi disciplinary Team of Specialists
State-of-the-art surgical equipment & post surgery facilities
Priority on infection- free environments
Experienced & empathetic Nursing teams
Leave a reply