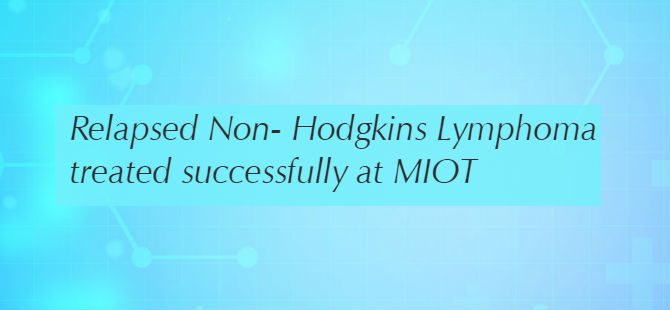 Mrs. Parvathy, 37yrs from Hoosur is single parent of a 12 year old girl. She is a teacher by profession. Losing her husband at a very young age, a standard living had already been difficult for her.
Diagnosis:
In February 2016, she experienced tiredness and fatigue which led her to visit a local hospital at Hoosur. There she was diagnosed with Non Hodgkin Lymphoma, a cancer that starts in white blood cells called lymphocytes, which are part of the body's immune system.
Treatment:
The standard treatment for lymphoma is six cycles of chemotherapy, which she underwent in Bangalore. More than 60% cases of lymphoma get cured with initial six cycles of chemotherapy itself. But unfortunately recurs in 20 – 30% of patients. After 6 months, she came for a review. On investigations, it was found that the cancer has relapsed.  Now in case of relapsed lymphomas, the cure rate goes down to less than 20-30%.
Relapse:
With her sister in Chennai and she being registered under ESI, she was referred to a government hospital in Chennai where they offered only palliative care. From there she was referred to MIOT for further treatment. She presented to us in January 2017 as a case of relapsed refractory Non Hodgkin Lymphoma –Stage IV, which was confirmed on taking a PET scan. If standard treatments stop working well for NHL or the lymphoma comes back within 6 months after standard treatment, this is called refractory NHL.
She got admitted with us. All her veins were used up and she was psychologically weak. We gave her two cycles of high intensity salvage chemotherapy (chemotherapy given to a patient when other options are exhausted) and did an Autologous bone marrow transplant using her own stem cells.
Recovery:
Now she is six months post transplant. Cure to her cancer thought her that, no matter how bad life turns, when you are ready to stay strong and fight against it, you can easily turn your life the way you want to. Once recovered, she joined work. She is not only a teacher to her students but also their living role model.
Leave a reply