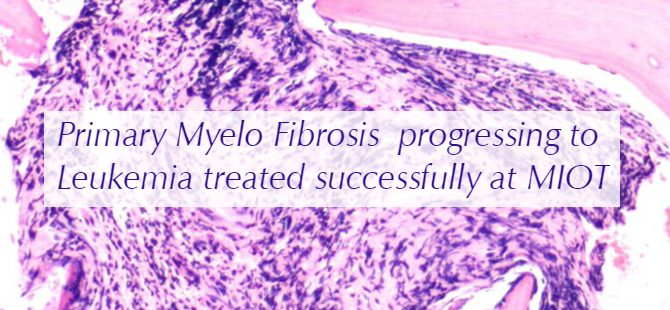 Mrs. Geeta, 63yrs lady visited a dentist due to her prolonged tooth pain in May 2016. The dentist advised for extracting the tooth. On extraction, he noticed very minimum flow of blood from the extraction site. So, he suggested Mrs. Lakshmi to take complete blood count.
With the reports, she visited a General physician at a local hospital. It was identified that her Haemoglobin count and platelets were very low than normal. On further investigations, her spleen was found to be twice its original size. She was referred to a haematologist, who suggested for blood transfusions after doing Bone Marrow Aspiration test.  But there was no improvement in her condition.
At MIOT:
By August 2016, she came to MIOT. After Bone Marrow Aspiration and Biopsy tests, she was diagnosed to have Primary Myelo Fibrosis progressing to Leukemia.
PRIMARY MYELO FIBROSIS is a Bone Marrow disease where the Bone marrow gets completely replaced by fibrotic tissues. Hence, the Bone marrow loses its capacity of producing blood cells, which is temporarily taken over by liver and spleen. By 1 or 2 years, even they fail.
Treatment:
Ideal treatment for this disease is Bone Marrow Transplant, which was not initially advised due to her age. So, she was put on 3 cycles of Chemotherapy that ended by October 2016. Blood counts started becoming normal and her spleen recovering slowly, but the doctors knew that it was not a permanent solution.
She was very fragile and her age seemed to be a major risk factor. Again putting her through high dose chemotherapy and then followed by Bone Marrow Transplant was still in question. The only positive factor was, the patient's sister was a 10/10 match for Bone Marrow Transplant.
With the availability of advanced technologies and complete infection free environment at MIOT, the doctors decided to take a chance. Treatments know as Reduced Intensity Conditioning was given to her followed by Allogenic Bone Marrow Transplant.
REDUCED INTENSITY CONDITIONING is used for patients who can only withstand very low dose chemotherapy. In an ALLOGENEIC TRANSPLANT, stem cells are donated to the person from another person, a genetically matched stem cell donor. This is usually a family member, a brother or sister with the same tissue type.
She comes for reviews at regular intervals. Her blood count is normal and her spleen is back to its original size.
Leave a reply