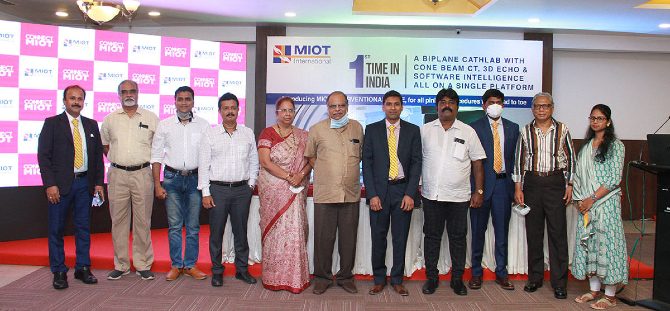 MIOT Hospitals has always been at the forefront when it comes to bringing the latest technology to transform healthcare.
By introducing cutting-edge healthcare technologies, we have been able to give patients hope. It also gives us the belief to conquer new frontiers and treat complicated health conditions with confidence and success.
The Pioneers in technology
When MIOT introduced Computer Navigated Joint Replacement Surgery for the 1st time in Asia Pacific, it started a revolution in healthcare technology. Soon, MIOT installed TrueBeam STx for the 1st time in Asia Pacific gave radiotherapy patients new hope and the confidence to defeat cancer. Also MIOT's Silent 3T MRI, a state-of-the-art machine was less claustrophobic and provided  diagnostic accuracy like never before.
In August 2021, MIOT Hospitals set yet another benchmark in the Indian healthcare landscape.
For the 1st time in India, MIOT introduced the MIOT Interventional Suite, which brings a Biplane Cath Lab with Cone Beam CT and 3D Echo, supported by software intelligence on a single platform.
 The fully configured Biplane CathLab System takes cardiac, neurological and vascular pinhole procedures to another level by setting benchmarks in SPEED, ACCURACY AND SAFETY.
Below is a case study of how two technologies at MIOT Hospitals, the Silent 3T MRI machine and MIOT Interventional Suite played a crucial role in saving an Andaman & Nicobar Islands' patient's life.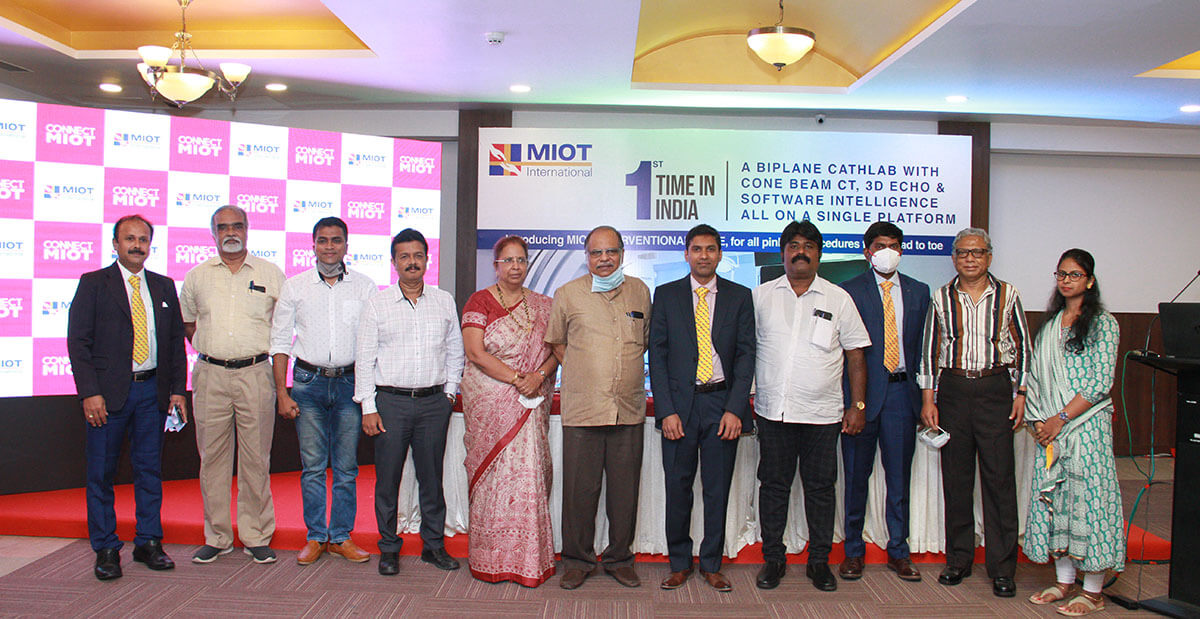 Seen from Left to Right in above order: 1) Mr. SATHYAMOORTHY – Head Accounts, MIOT Hospitals, Chennai; 5) Dr. MUNNI SINGHANIA – Director of Health Services, Port Blair, Andaman; 6) Dr. OMKAR SINGH – Director of Health Services, Port Blair, Andaman; 7) Dr. KARTHIKEYAN DAMODHARAN – Director, Vascular and Interventional Radiology, MIOT Hospitals, Chennai; 9) Dr. SHANKAR BALAKRISHNAN – Interventional Neurologist, MIOT Hospitals, Chennai; 11) Ms. SUSHMITHA BISWAS – Patient who was successfully treated at MIOT Hospitals, Chennai.
CASE STUDY
Life was like a dream for 28yr old Sushmitha. Being the youngest and only daughter of her family and a sister to 2 brothers; she was loved and cared the most by all. She was a very independent person and also followed her passion and became a teacher.
But what started as back pain in June 2021 turned her life upside down. Initially, she thought it was profession related and never cared about it much. But as days passed, her pain worsened and she visited a local doctor, who prescribed her few medicines. But still her pain persisted to an extent that she was unable to sleep.
Soon, her symptoms progressed and she could not feel her hands and feet. She had lost all her sensation to her limbs, lost bladder control and needed support to walk, to go to the washroom, to eat, to hold paper, etc. Ms. Sushmitha said "I felt helpless, I was in pain and I thought that my life is over and I have to be dependent on someone all my life. But the worst ever pain was when I decided to quit my job."
She was then referred to a hospital at Port Blair who advised her for CT scan, which showed an erosive lesion in the cervical spine (neck bone) suggestive of cancer.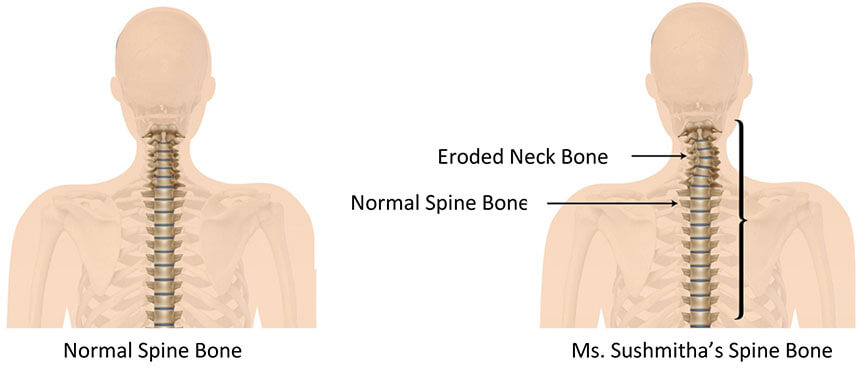 GLIMMER OF HOPE
The family was shattered. The word cancer had made Ms. Sushmitha lose all her hope. It was only at that time, their family friend who was treated successfully at MIOT Hospitals, Chennai suggested them to take an opinion from the MIOT oncologist. Her father, with a glimmer of hope rushed with his daughter's reports to MIOT Hospitals Outreach clinic at Port Blair.
Immediately, the team at MIOT Hospitals Outreach Clinic arranged for a Video consultation with the Senior Medical Oncologist at MIOT, Chennai who reviewed the reports and asked them to come to MIOT, Chennai immediately.
She travelled by flight from Andaman to Chennai Airport. At Airport, she was received by the MIOT team and transferred in an ambulance to the hospital. She required wheel-chair assistance for movement as she could barely walk. She met the Oncologist and spine team who advised for Silent 3T MRI.
THE SAVIORS
High-clarity images produced by MIOT's Silent 3T MRI ruled out cancer, but revealed abnormally tangled blood vessels eroding the bone in the cervical spine (neck bone) . An angiogram done using the MIOT Biplane Cath Lab with Cone Beam CT showed an abnormal connection between the artery (deliver Oxygen rich blood from heart to other organs of the body) and vein (carry deoxygenated blood from organs back to heart) – Para Spinal Dural Arteriovenous Fistula (AVF) which caused a pressure effect on the spinal cord at the cervical level resulting in weakness of the trunk and limb muscles. As a result she couldn't walk without support, and couldn't control her bladder.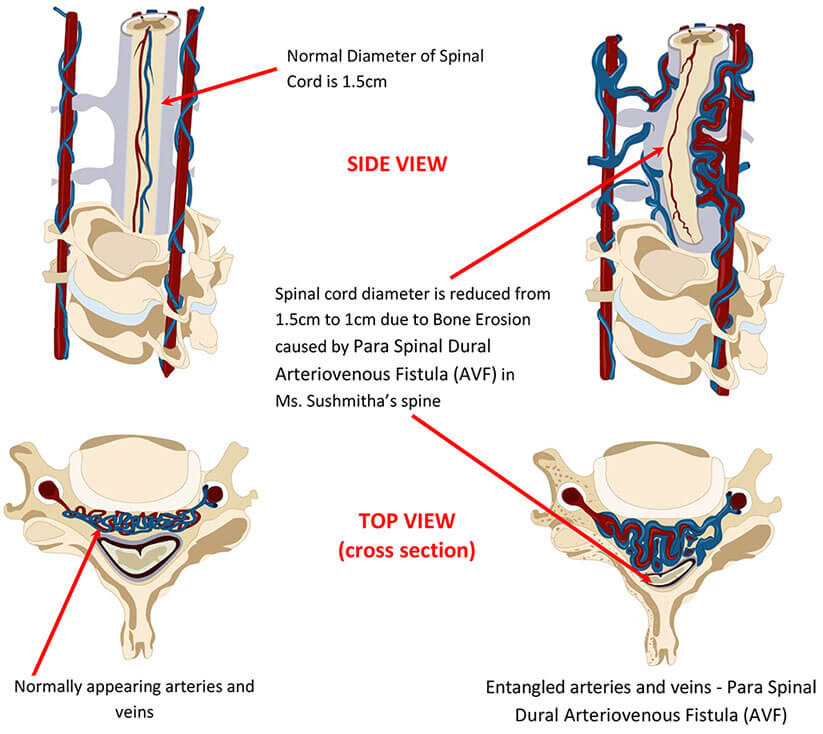 TREATMENT PLAN
To the family's relief it was not cancer, but the location of the Para Spinal Dural Arteriovenous Fistula (AVF) was complex. Even one wrong move during the procedure can leave her paralyzed for life. But, the doctors gave hope and decided to perform a pinhole procedure immediately.
The treatment plan was to inject thick glue like substance and seal off the abnormal connection. The procedure was planned in the new MIOT Interventional Suite's Biplane Cath Lab facility. This machine supported by software intelligence helped the interventional neurologist to exactly locate the abnormality.
ON-TABLE DECISION- HIGHEST LEVEL OF ACCURACY
Cone Beam CT, a distinguishing feature of the machine which produces CT like output of brain vessels in mere 5.2 seconds, showed 3D images of all the feeder vessels and fistula tangled inside the bundle of blood vessels. This not only helps in eliminating the presence of any further abnormalities but also choosing the path for navigation. This avoids the doctor working in blind thus promising the highest level of accuracy.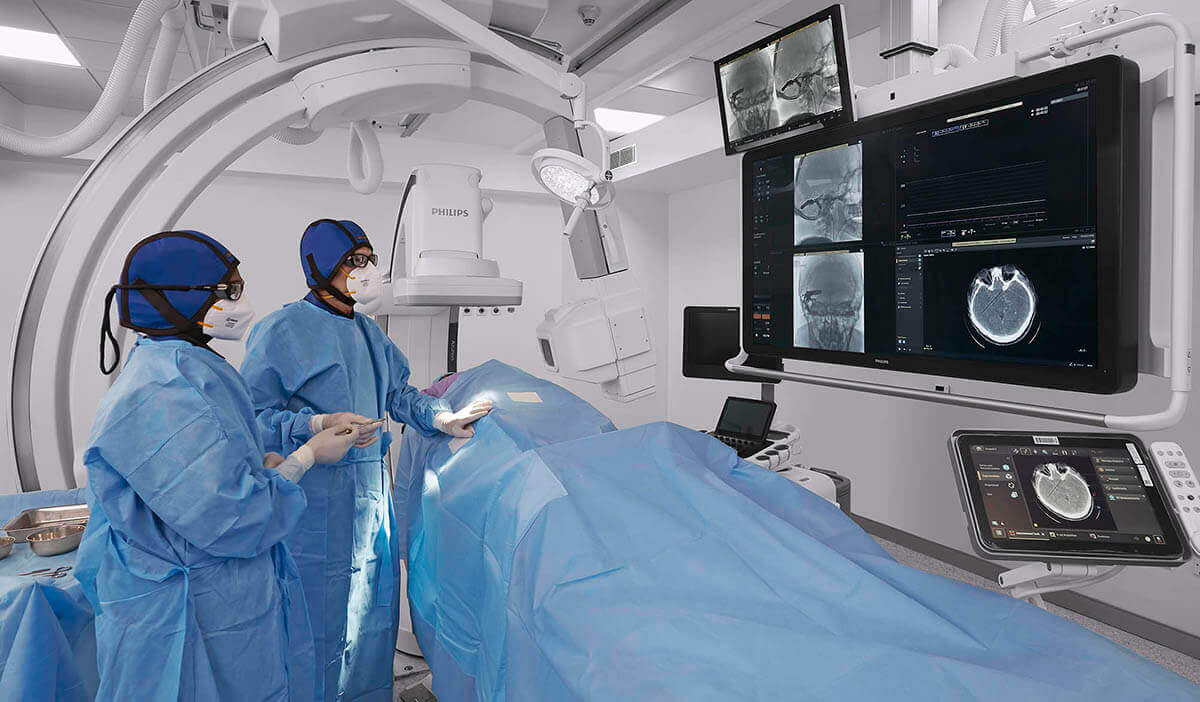 Procedure Done at MIOT's Interventional Suite – Biplane Cathlab with Cone Beam CT
MAXIMUM SAFETY
The vessels around the spinal cord can be as small as 1mm in diameter. MIOT Interventional Suite's Biplane Cath Lab facility helps guide the neurologist by highlighting the pathway to the AVF and injecting the substance only into it without damaging any other surrounding vessels, thus assuring maximum safety. New Road Map obtained after every injection of the glue produces images only of the blood vessels into which the glue is injected, eliminating the surrounding structures thus highlighting if the glue is flowing in the right direction.  The radiation dose was also reduced to more than 50%.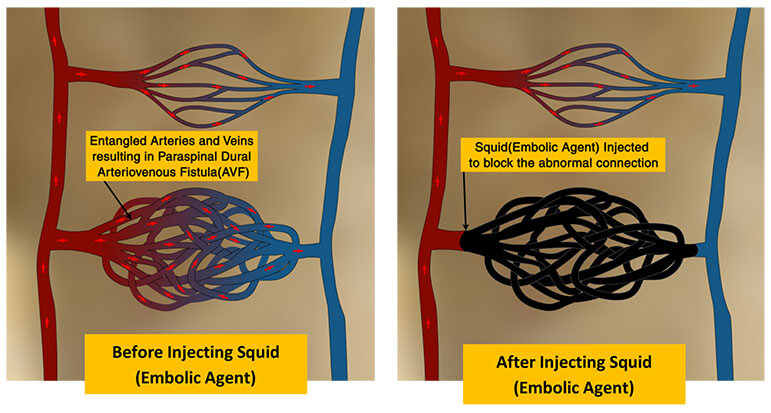 REDUCED TIME
In all, the procedure duration was brought down from 4 hours to less than 1 hour, thanks to the MIOT Interventional Suite.
ROAD TO RECOVERY
Five days after the procedure, Ms. Sushamita Biswas started to walk once again and was even able to climb the stairs without any support. Today she has regained her confidence and independency and is eagerly waiting to continue her passion.
Ms. Sushmitha Biswas – Procedure Video
MIOT HOSPITALS – OUTREACH CLINIC at PORT BLAIR:

For more than 2 decades, patients from Andaman and Nicobar Islands have been benefitting from the quality healthcare provided by MIOT Hospitals, Chennai. And in November 2019, MIOT Hospitals extended its care and support to them by opening an Outreach Clinic at Port Blair.
Services offered at MIOT Hospitals Outreach Clinic at Port Blair:
MIOT Telemedicine Services:
Patients from Andaman and Nicobar Islands can get connected with MIOT Super Specialists at Chennai via video consultation provided by a dedicated telemedicine line available from this clinic.
This helps the patient to interact with the MIOT specialist before they plan their travel to MIOT Chennai for further treatment, if required.
Also once they are back to the island post treatment at MIOT Chennai, they can use the same Telemedicine services to get connected with their treating specialist for further reviews and follow-up, without requiring them to travel to Chennai thus saving the travel and accommodation expenses.
Super Specialist Visit to Port Blair:
Every week the Super Specialist from various medical specialties from MIOT Hospitals Chennai, are visiting the MIOT Hospitals Outreach Clinic at Port Blair to offer medical consultation. Island Patients can make use of this service for expert consultation and for reviews/follow-ups.
The specialist covers Orthopaedics, Neurology, Nephrology, Gastroenterology, Cancer, Cardiac, Diabetology, Organ Transplants to other specialities too.
Appointments, Travel Coordination and other Documentation:
The Patient Care Facilitators at MIOT Hospitals Outreach Clinic at Port Blair will assist island patients with in-person appointment and telemedicine appointments with the MIOT Specialist, arrange patients medical reports required for further treatment at MIOT Chennai and also plan their travel safely to Chennai.
Patient Care Facilitators will also coordinate with the team at MIOT Chennai to assist the patient pick-up & drop – from the Chennai Airport to MIOT Hospitals and also usher the island patients to required specialist inside MIOT Chennai Campus.
Leave a reply