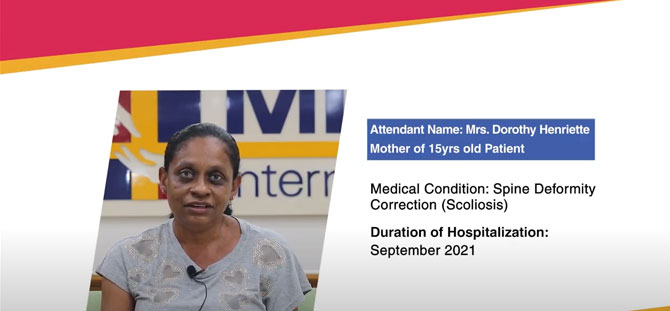 Mrs. Dorothy Hentriette, the mother of the 15-year-old patient, noticed some changes in the way her son was walking about one and a half years ago. As a parent, she was worried about her son's posture and wanted it examined at a local hospital in Seychelles. When he underwent medical exams, the results revealed that he had scoliosis.
Scoliosis is an abnormal lateral curvature of the spine. Severe scoliosis can be disabling. An especially severe spinal curve can reduce the amount of space within the chest, making it difficult for the lungs to function properly.
He had a deviated ribcage and he was not able to sit in a chair properly. Only one part of his back would make contact with the chair. He had to constantly deal with back pain and discomfort, which made it difficult for him to sit for long periods of time or engage in physical activities. They sought medical help to find a solution to his condition and improve their quality of life.
The orthopaedic specialist at Seychelles gave him a few painkillers for the discomfort and suggested that he undergo physical therapy. Soon, they found his condition worsening. That is when they were recommended to MIOT International, Chennai. Mrs. Dorothy hoped that this would finally provide her son with the relief that he needed.
Despite the challenges posed by the pandemic, Mrs. Dorothy was determined to get her son the best medical care possible. On arrival, they were taken for a CT-PCR test, which revealed that they were COVID-negative. Then, the boy underwent a few tests, and when Mrs. Dororthy saw the X-ray, she was shocked to see the shape of his spine. It looked like an S-shaped curve.
After a thorough evaluation, MIOT experts proposed a comprehensive plan for his treatment. The doctors explained to her the step-by-step process of how they were going to use rods and screws to stabilise his spine and prevent further damage. They also assured her that the surgery had a high success rate and that her son would be closely monitored throughout his recovery.
After the surgery, the boy showed significant improvement, and the mother was extremely happy to see her son walk straight. She had happy tears in her eyes and said it was as if her son had never had scoliosis.
Leave a reply