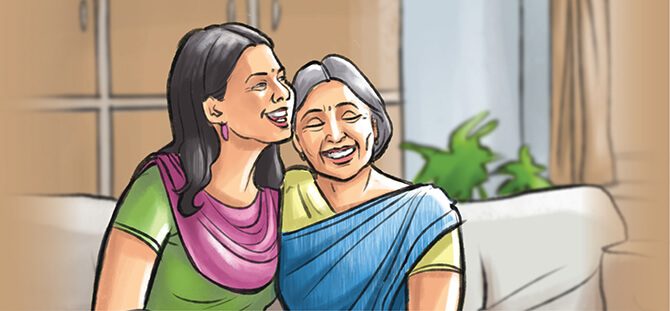 Early in March 2020, Latha, a 56-year-old from Arakonam, Tamil Nadu complained of severe stomach pain. Agasthiya, Latha's daughter, took her to a few local doctors who diagnosed it as an ulcer. Seeing her mother continue to suffer, she started to worry if it was just an ulcer. Agasthiya took her mother to a multi-speciality hospital in Chennai, Where she was diagnosed with colon cancer. The team at the multi-speciality hospital decided to go ahead with surgery sometime in the month of April 2020. Despite the lockdown situation, Latha and Agasthiya travelled to Chennai for the planned surgery.
To their dismay, the hospital that had earlier diagnosed her with colon cancer, refused to takeup any complicated cases because of the COVID pandemic. Having travelled 80 kms in the early hours and not knowing where to go or how to proceed, the two women grew anxious. Adding to their woes, Agasthiya knew that her mother had to undergo the surgery immediately and she was feeling helpless. A passer-by noticed the worried mother and daughter and requested them to try MIOT Hospitals.
Even though Latha was a patient from another hospital, MIOT instilled a ray of hope in them as they agreed to have her admitted immediately. Latha initially consulted MIOT's Medical Oncologist. Upon eliciting her history and examining the scans, it was revealed that she had a mass lesion in her colon. The MIOT Tumour Board comprising oncologists and surgical gastroenterologists advised Latha laparoscopic surgery. Latha underwent keyhole procedure successfully at MIOT's COVID-Free Green Zone.
This dedicated zone is located 100 meter away from the COVID Care Centre, which makes it a safe place for all non-COVID patients like Latha. Post-recovery, the Medical Oncologist advised Latha to undergo six cycles of Adjuvant Chemotherapy. With the completion of chemotherapy as well, Latha is back to her normal life, along with Agasthiya. With timely diagnosis and procedures, MIOT helped them avert a serious crisis in the nick of time, even during the pandemic.
Latha is just one among the thousands of patients who have been successfully treated at MIOT during the pandemic. Mrs. Latha was one among thousands of patients who were successfully treated at MIOT's COVID-Free Green Zone. during the pandemic. Located 100 metres away from the COVID Block, this exclusive zone offered the highest level of care across 63 specialities with full-time doctors dedicated to treating only non-COVID patients, and ensured overall patient safety.
Leave a reply