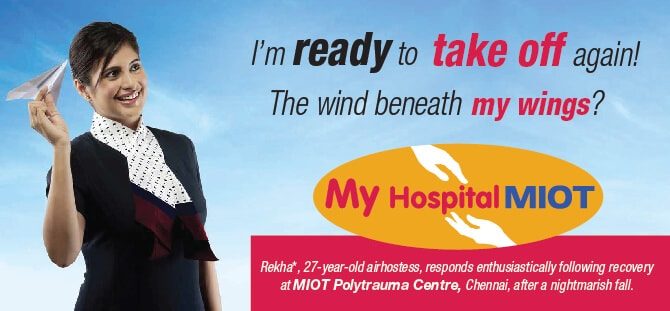 "My wife & I had taken time off our busy schedules to ring in the New Year together in the beautiful Andamans. When Rekha settled down on the balcony railing of our hotel one evening, I never  dreamt it was the start of a nightmare. Losing balance abruptly, she fell almost 60ft to the ground below that was strewn with broken glass & stones," said Anil, Rekha's husband. "X-rays at the city's leading hospital showed fractures in her right arm & hip bone. Even though the doctors advised airlifting Rekha to MIOT, Chennai, for treatment, we had to wait for her low hemoglobin of 7mg/dl to move up. As I watched Rekha struggle with excruciating pain despite painkillers, one thought tormented me- what if my active wife who was just 27yrs and loved being an air-hostess, never walked again?" recalls Anil.
"We were ready for Rekha when she was brought in. Scans on our advanced Trauma CT machine revealed multiple injuries that affected more than one organ­the impact of the fall had bruised tissues & blood vessels in her chest, fractured 2 vertebrae in her spine and also fractured her arm, thigh & hip bones. It was a clear case of Polytrauma. Our priority at MIOT was to return her to her pre-accident level of activity. Given the severity of her fractures, we could do this only through staging her treatments," explained the Director at one of the leading Category 1 Polytrauma centres in the world, MIOT International.
Stage by stage
The first stage was fixation of the long bones- humerus fracture (long bone in the upper arm between shoulder and elbow), thigh bone and resetting of her hip bone which had been broken in 3 places. These were critical procedures as accurate fixation was essential for smooth & painless movement while sitting & standing.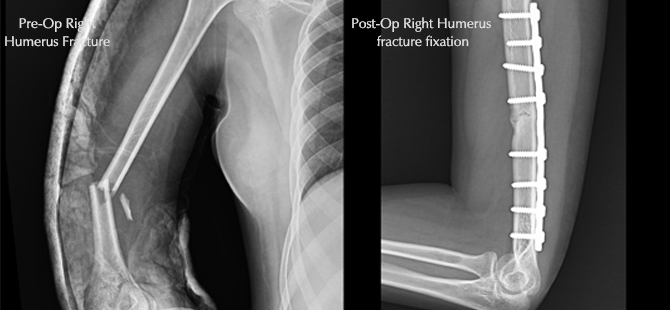 Treatment of her chest & spine injuries were simultaneously done through medical management (medication & braces respectively). Rekha's systems were then given a recovery period of 15 days before the next surgery.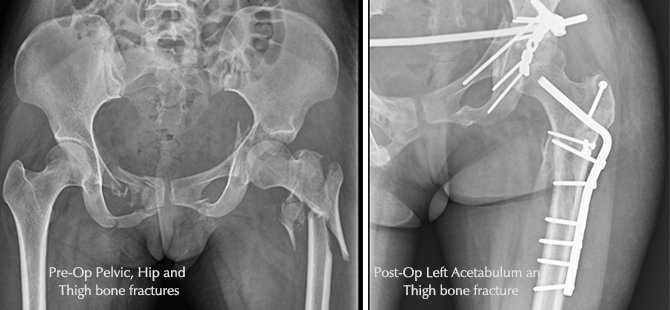 Unique Pelvic Inflix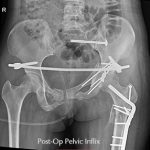 The next stage dealt with setting of her fractured Pelvic ring bone that involved the delicate sacral ala and pubic bones, so essential for painfree walking and sitting. This is usually done as an external fixation.
In Rekha's case, the MIOT team performed the minimally invasive Pelvic Infix, an advanced & intricate key hole procedure, done by only a few centres in India. Patients recover faster with minimal chances of infection & better stability.
Fast recovery
1 week after her surgery, Rekha was into physiotherapy & walk training with the help of 2 walk crutches. She went home a week later with strict instructions for a safe recovery. Today 2 months after her nightmarish accident, she is back to normal activity.
As Rekha plans her return to work, she recalls the MIOT Team- "The motivation & support from my doctors, nurses & physiotherapists in my darkest moments was nothing less than what my family gave me. They have restored my confidence to face life."
Not Trauma- It is MIOT Polytrauma Centre
Complete facilities (life support, imaging & surgical facilities) for all accidents- road, industrial or domestic- affecting all organ systems
Separate Centre offering 24 x 7 support by an experienced Trauma team that includes experts from all Specialities
Immediate stabilisation, correct evaluation & staging of treatments return patients to earlier lives without disability
Leave a reply