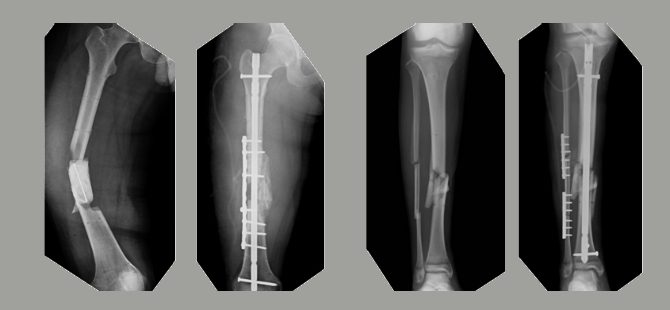 Mr. Suman is a 21yr old, studying commerce in a small town in West Bengal. At the peak of youth he met with a dreadful accident.
Life's Mis-hap:
He was going to his college on a 2 wheeler, while attempting to overtake a car, a truck who had entered onto the wrong side of road collided on to his bike front on. The helmet saved him from a life threatening head injury but his right leg took a toll. The severity of the injury could be assessed from the fearful fact that Suman was tossed in the air and got thrown 20 feet away due to the impact.
Treatment:
He was immediately rushed to a local hospital. He had sustained compound Grade III B fracture of the right femur (thigh bone) & leg bones. The fractures were temporarily stabilised with external metal framework (external fixators in medical terms) and the wounds were cleaned. The wound caused due to the fractured bone piercing the skin was covered with a skin graft.
GRADE III B FRACTURE is when bone had got fractured and had torn apart the overlying skin and muscle tissue so as to be visible from outside. It also has a high chance of the road side contamination entering into the fracture sites making them prone for infection.
Approach to MIOT:
What was feared happened!! Instead of showing signs of healing, the wounds had got infected. Dissatisfied with the 3 months long unyielding treatment, Mr. Suman's father brought him to MIOT hospitals with pus pouring out of the thigh & leg wounds. The lab examination of the pus revealed growth of bacteria which was resistant to most of the known antibiotics.
The wounds had to be thoroughly cleaned at repeated intervals under anaesthesia and he was put on high end antibiotics. After exhaustive cleaning procedures and 2 month long antibiotic therapy the infection settled down and hence he underwent limb reconstruction by plate osteosynthesis of the thigh bone and 'Nailing' of the leg bone.
OSTEOSYNTHESIS is a surgical procedure that stabilizes and joins the ends of fractured (broken) bones by mechanical devices such as metal plates, pins, rods, wires or screws. Osteosynthesis refers particularly to internal fixation of a fracture.
Recovery:
He was discharged and was being rehabilitated when fortune had its way, poor Suman slipped down the stairs and the fracture which was in the process of healing gave way. He came back to MIOT where the thigh bone fixation was extensively revised leaving no stone unturned to ensure complete healing in spite of the misshape.
5 months after walking into MIOT for the 1st time with a fractured, infected and non-functioning right leg, he walked out on his feet without any support. Mr. Suman had joined his college back after 2months and was heading towards becoming a successful Charted Accountant.
Leave a reply