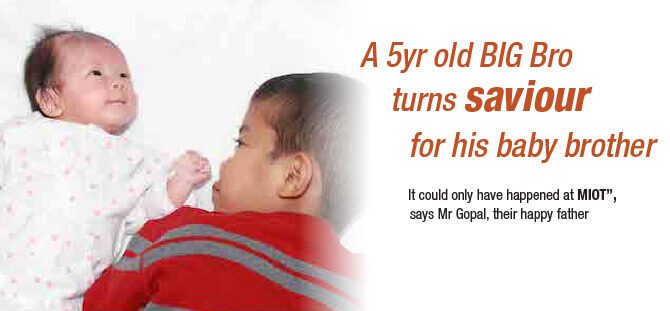 "My wife and I were blessed with 2 boys- 5 yr old Anand & baby Aravind. When Aravind was around 4 months, we noticed he was becoming increasingly sickly and pale. A drastic drop in haemoglobin levels led to his first blood transfusion. As part of the investigations, the entire family went through blood tests. We were shocked to discover that my wife and I as well as Anand were silent carriers of  Thalassemia – a disease of red blood cells, caused by defective genes being passed down through parents. Aravind had inherited the aggressive variant- Thalassemia Major for which patients undergo blood transfusions. Our lives changed completely as my son went through almost 20 transfusions in the next 8 months at almost every leading medical centre in South India. We were  completely broken and had little hope when we came to MIOT." said Mr. Gopal emotionally.
"Aravind was in a bad shape when he was brought to us. Repeated blood transfusions at other centres within such a short period had resulted in excessive iron deposition into his already weakened system. Our first priority was to control his iron levels", said the Director of Haematology, Haemato-oncology & Bone Marrow Transplant, MIOT International.
Bone Marrow Transplant: The solution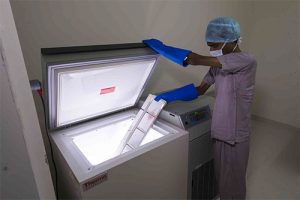 "The MIOT Specialists explained to us that further transfusions would be ineffective. The only permanent solution would be a Bone Marrow Transplant where healthy stem cells from a matching donor could be used to replace the defective blood cells in Aravind's system. It had its risks but their confidence and transparency convinced us that we were doing the right thing", recalls Mr Gopal.
A joint endeavour in expertise & care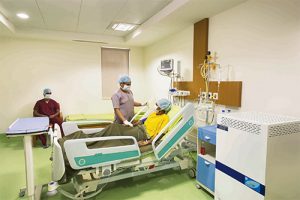 The very next day, Aravind underwent next generation sequencing at MIOT- HLA (high resolution tissue typing)- which virtually eliminates a  mismatch in stem cells at a later stage. Fortunately his elder brother, 5 year old Anand was found to be a perfect match. As both the  patient & the donor were children, MIOT's BMT specialists were joined by the expert Paediatric Team in the planning & execution of this highly specialized procedure. Firstly, all tests were done to ensure Anand's safety and comfort. Next the Team aided by the latest medication and equipment,  successfully collected stem cells directly from his peripheral veins, thereby avoiding a surgical procedure under anesthesia, as is normally done. "My brave, little son was perfectly okay at the end  of the 4 hour exercise", said his proud father.
Light at the end of the tunnel
Once Anand's stem cells were transferred into his brother's system, Aravind was monitored 24 x 7 in MIOT's 100% infection free HEPA filtered unit by a dedicated team for 14 long days. Their wait ended when blood tests confirmed that Aravind's bone marrow had started producing sufficient levels of red blood cells & haemoglobin, making him finally transfusion independent. Needless to  say, his parents were overjoyed!
"Aravind gained 2 kgs in 2 months! When we celebrated his 2nd birthday, I finally believed my son would be normal & healthy all his life, like the other children. To come to MIOT, was in his  destiny", said his grateful mother.
Advantage MIOT International
Leading Bone Marrow Transplant centre (over 175 transplants in 4 years)
Led by experienced experts in Haemato-oncology & transplants
State-of-the-art infrastructure & Blood Bank
Access to expert teams in other specialities
Leave a reply