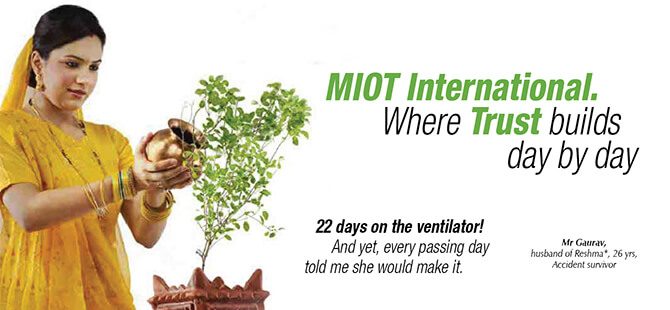 "We were going to the market when our bike skidded and my wife who was seated behind fell down. I turned around to find her on the ground, eyes closed, absolutely still. Fortunately when I rushed her to the Medical College nearby, they referred her after initial treatment to MIOT International Chennai. It was clear to them that Reshma's condition was rapidly deteriorating. I will  never forget the moment we turned into the Hospital at around 11.30pm.The MIOT emergency team was waiting and took over completely as soon as we reached. I cannot explain why but as I  watched them expertly wheel my wife away with care and without confusion, something told me we were in the right place," recalls Mr Gaurav.
"Reshma was brought in unconscious with no response to any kind of stimulus. CTscans showed cranial fractures, acute clots & swelling in her brain. There were fractures in her limbs and other injuries but saving her life with an emergency neurosurgery was our priority", said the Head of Neurosurgery at MIOT. I still remember the completely helpless look on her husband's face when we explained the situation to him."
When time lost meaning
"The operation took over 5 hours. When the Doctors came out to tell me that the surgery went as per plan, I wept in relief. They explained that Reshma was on the ventilator and we must give her  time to recover. I was more than willing to wait but soon hours turned into days and days into weeks. I didn't know when the sun rose or set. All I did was wait every day till 3pm to see my wife and then go back to my babies, 3yrs & 5yrs old, waiting at home.
Every day, Every minute
I came through that period only with the support of the family that I found at  MIOT- the Doctors, nurses, paramedics, dieticians… It was as though my wait was theirs as well. They understood my fears, comforted me in my own language, made me aware of every tiny improvement, kept my hopes alive. My trust grew everyday as I watched them work, the Hospital work. On the 22nd day when Reshma opened her eyes, I felt I was breathing again!
She had to go through several more treatments** which I had never seen or heard about – but the Doctors gave me their valuable time to explain each stage. I will never forget their patience and positive spirit.
Today my house is a home again- my wife is independent, she looks  after our house, our beautiful daughters. As I watch her work, I can't believe what she has been through. MIOT gave her back to me. I realise I had trusted them with all our lives."
Advantage MIOT
Level 1 Trauma Centre with complete range of state- of- the- art life support systems, imaging & surgical equipment
Immediate evaluation, stabilisation & correct treatment by an experienced Team comprising Poly Trauma experts & Specialists for different organ systems
Unique MIOT work culture where Teams respond together
Priority on infection- free environments
Leave a reply