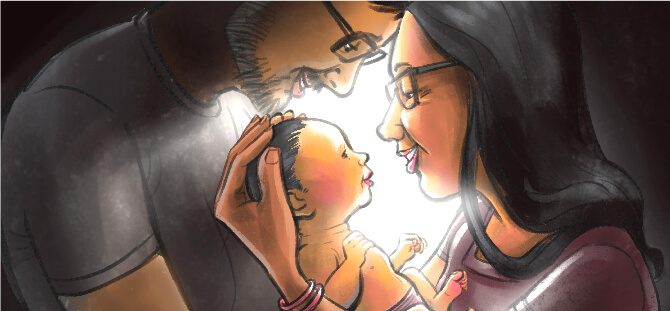 Mr. Venkatesh and Mrs. Keerthy, a Chennai-based couple from Andhra Pradesh, were expecting their first child. Mr. Venkatesh was skeptical about sending his wife back home for her delivery. Instead, he wanted to provide the mother and baby a secure environment within Chennai. That's when one of his seniors at work referred him to MIOT Hospitals. Since it was close to his place of residence and work, Mr. Venkatesh decided to opt for MIOT for Mrs. Keerthy's regular antenatal check-ups. With just a few weeks left for the due date, the couple were excited about becoming parents. But their excitement was short-lived, as news of the nation-wide lockdown due to COVID-19 reached them.
With the lockdown effective almost immediately, it was impossible for their parents to travel from their respective towns to Chennai. What was more worrying was that many patients were being turned away from hospitals owing to the COVID-19 scare.To Mr. Venkatesh's relief, MIOT Hospitals instilled confidence and trust in him as they were accepting every patient with open arms even during the pandemic.The fact that they had a dedicated COVID-free Green Zone, 100 metres away from the COVID Block, exclusively for treating only non-COVID patients convinced Mr. Venkatesh that MIOT was the safest place.
Mrs. Keerthy was eventually admitted to MIOT for her delivery process. The couple's family members couldn't make it for the delivery, but that didn't deter Mrs. Keerthy and Mr. Venkatesh, as the staff at MIOT took extra care of the couple and ensured that they felt completely at home. Right before her delivery, Mrs. Keerthy developed some last-minute complications and had to undergo a C-section surgery. With the help of the team of Gynaecologists, Paediatricians and Anaesthetists at MIOT, Mr. Venkatesh and Mrs. Keerthy became proud parents of a lovely little baby.
Owing to the team's extended care and guidance, the mother and baby continued to be safe and healthy post-delivery. Mr. Venkatesh and Mrs. Keerthy cherish these moments as the staff at MIOT extended a family-like warmth that helped them have a seamless pregnancy, even during the pandemic.
Mrs. Keerthy was one among thousands of patients who were successfully treated at MIOT 's COVID-Free Green Zone during the pandemic. Located 100 metres away from the COVID Block, this exclusive zone offers the highest level of care across 63 specialities with full-time doctors dedicated to treating only non-COVID patients and ensuring overall patient safety.
MIOT Hospitals. Extending our care at the time of COVID 19.
Leave a reply