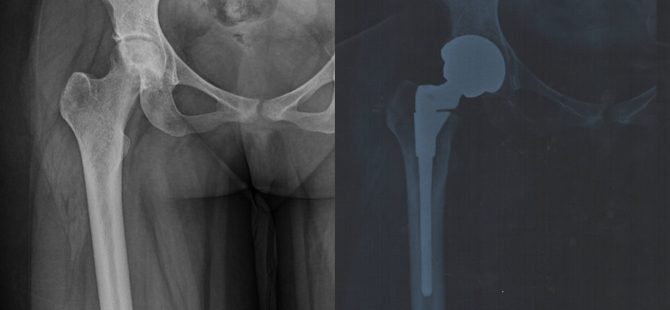 Patient has sickle cell anaemia. The blood cells in this disease are defective and they block the blood vessels. This can cause bone death. This lady had death of the bone in the right hip. She was unable to walk and was in severe pain.
The two main problems were:
1.) Safe surgery.
2.) At age of 30 getting the patient an artificial hip implant that would not worsen the blood disease + last for a lifetime.
Risk of surgery can be reduced by reducing the abnormal blood cells in the body.
This is done by exchanging the bad blood for good + compatible donor blood. As the patients abnormal cells were 98% of her blood, her blood was exchanged seven times 12 hours prior to hip surgery.
Hip implants can liberate debris that worsens sickle cell disease and also reduces the life of the implant.
Special Zirconia impregnated delta ceramic on delta ceramic implants which have no friction, produce no debris and can last 80 years were inserted into the patients destroyed hip joint.
Patient was able to walk 1 hour after surgery. Then patients can do sports in 28 days, sit cross legged and lead a fully normal life.
About Sara Saif
Sara Saif was brought to MIOT with a known case of sickle cell anaemia, having severe pain at right hip joint for over 3 years. She was unable to climb the stairs or even walk for a minute before the pain starting to eat her right hip joint up.
Sara is the 6th child for her parents and she was the most lovable sibling for her brothers and sisters. She used to do all the shopping for her siblings, driving by herself in her city, Oman. She was given the confidence and independence she wanted by her clerical job. One fine day she began feeling a pain in her hip, which gradually turned unbearable. She recalls how terrible the pain was after getting up from bed, or after walking for a bit.
She consulted a doctor in her home country, and also in Thailand for more investigations. But she was not happy with the processes or consultation she had to undergo in any of these places. She had to leave her job for the process, along with various hobbies such as cooking which she enjoyed a lot.
It was then that she heard about MIOT International where her cousin brother had come for a fracture in his hand years back. His experience at MIOT gave her confidence to come over to MIOT for her treatment too.
Currently, she is happy at her home city, driving her car, shopping, and cooking for her siblings.
Leave a reply