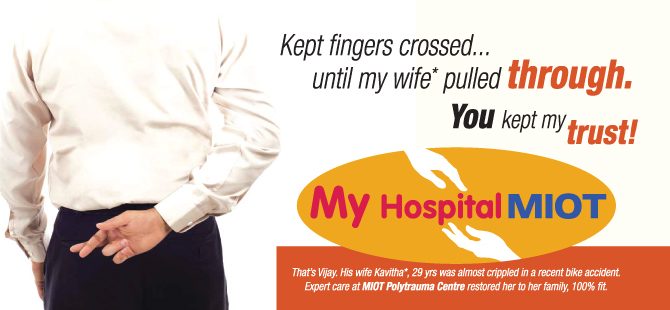 "We (my husband Vijay, our 2 ½ yr old son Jay & myself) were enjoying the early morning breeze as we  drove down to the beach on our scooter. I was seated sideways with Jay on my lap. It happened without warning and was over in a split second ­ we were hit by a speeding car from behind and  thrown onto the hard road between the wheels of the car. My first instinct was to protect my  child. Jay & I were dragged for a while until everything went quiet. Until excruciating pain hit me. Even as they  lifted me carefully into the ambulance, called in by the Police, I could hear myself scream," recalls Kavitha. "Will I ever hold Jay again? That's the only thing she kept asking me. It was our lucky stars that brought us to MIOT," said Vijay with tears in his eyes.
"Initial examination of the family told us that Vijay & his son had few injuries. But Kavitha's vitals were unstable- she was rushed to the ICU for breathing support & intraveneous fluids. Even as her systems  stabilized, hi-resolution scans revealed grievous injuries to critical parts of her skeletal system," said  the Director, MIOT Polytrauma Centre. He continued, "Kavitha's injuries were caused by two high energy events: 1. The car at high speed ramming into the scooter. 2. Her sudden & high velocity fall, sideways, onto hard tarmac. Since they happened almost simultaneously, the impact on Kavitha was tremendous".
Our pelvis is made up of several delicate bones which together create a bony ring, meeting at the pubic bones in front & at the lower end of the spine at the back. This ring along with ligaments and muscles supports the weight of our upper body and rests on the hip joint. In Kavitha's case, the impact had fractured & displaced her pubic bones & dislocated the connecting joints (sacroiliac joints) at the back of the spine. The fall had also fractured her right thigh bone (femur). The impact had driven the head of the femur right through the cup or acetabulum of the hip joint, fracturing and displacing her hip.
It was clear that Kavitha could be bedridden for life, if not treated quickly & correctly.
Additionally, the bone in her right upper arm (humerus) was fractured and displaced. Damage to the radial nerves which runs from the upper arm to the wrist and fingers had made her fingers numb & weak.
Accurate staging: Key to Kavitha's recovery
Kavitha was a young wife & mother. Our treatment goal was to return her to pre-accident level of activity. This could only be done by staging a set of precise surgeries to reset & realign her bones.
Certain procedures had to be done within 48 hrs for best results. Stabilization of the pelvis and SI joints and resetting of the thigh bone were taken up on the day after the accident. This was followed by a break of 2 days for the body to recover from the huge blood loss.
A week later her right humerus (upper arm) was taken up for plating. After 2 days of rest, surgery was performed for fixation of her acetabular fracture. This was tricky as the area had vital blood vessels & nerves. Physiotherapy began 4 days later.
 Definite progress
"We took Kavitha home within a month of the surgery with instructions on complete bed rest for 15 days. 1 ½ months after the accident, I watched in amazement as my wife stood up at her first review- she took her first steps 1 ½ months later, after some vigorous physiotherapy. Unbelievably, she has since returned to all previous activity.
As I watch her play with my son, I realise that coming to MIOT, a Level 1 Polytrauma Centre had made all the difference. The key to Kavitha's recovery lay with her expert specialists, who knew exactly what to do & when! They have made our life worthwhile," said Vijay, gratefully.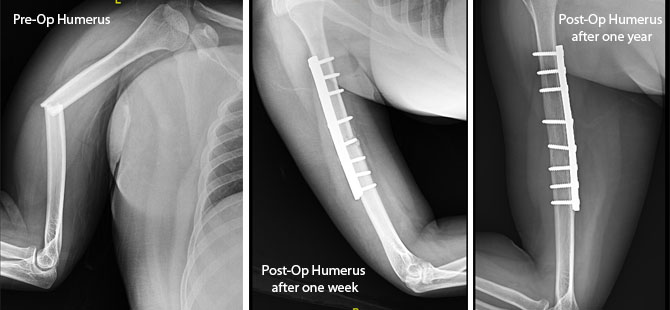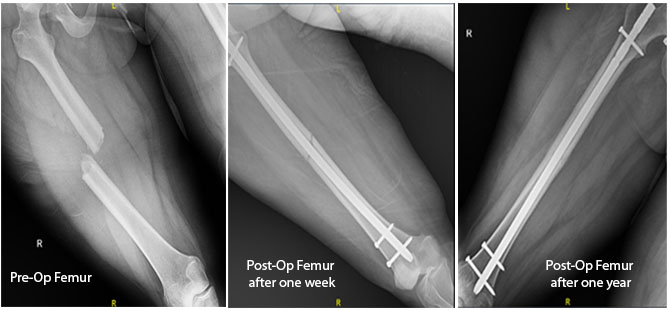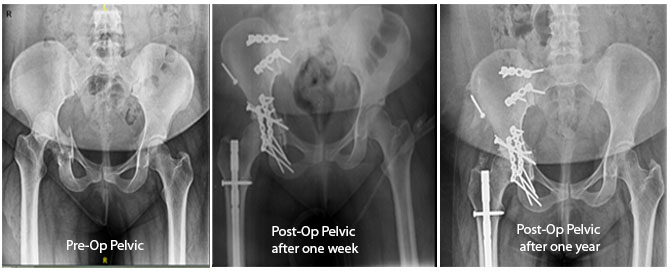 Not Trauma- It is MIOT Polytrauma Centre
Complete facilities (life support, imaging & surgical facilities) for all accidents- road, industrial or domestic- affecting all organ systems
Separate Centre offering 24 x 7 support by an experienced Trauma team that includes experts from all Specialities
Immediate stabilisation, correct evaluation & staging of treatments return patients to earlier lives without disability
Leave a reply